Burlington, South Burlington and Brattleboro are ICLEI members (an NGO that is tasked with implementing The UN's Agenda 21 on the local level). VERMONT towns  are being "represented" by ICLEI at UN meetings. ICLEI is flying the "local Government" Flag??? Look at the title they are given "Local Authority Major Group Co-Facilitator" What? As you know the US constitution Article 1 Section 10 declares:
No State shall enter into any Treaty, Alliance, or Confederation;…No State shall… enter into any Agreement or Compact with another State, or with a foreign Power
link – http://www.usconstitution.net/xconst_A1Sec10.html
Story: ICLEI pushed for Local Authority recognition at the UNEP Governing Council meeting
At the United Nations Environment Programme (UNEP) Governing Council/Global Ministerial Environment Forum (GC26/GMEF) meeting, 21-24 February 2011, in Nairobi, Kenya, ICLEI has been flying the flag for local governments as a Local Authority Major Group Co-Facilitator.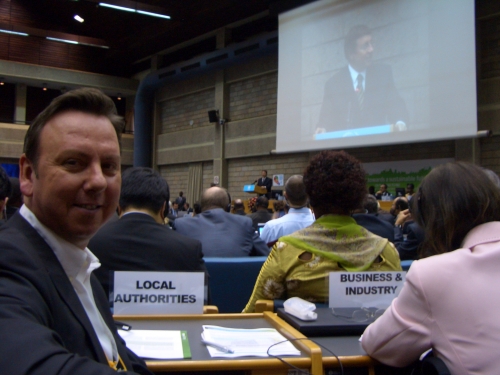 During the meeting ICLEI Deputy Secretary General, Gino van Begin, delivered two statements on behalf of the Local Government Major Group.
The President's summary of the meeting, as a contribution of UNEP to the preparatory process towards Rio 2012, includes numerous references regarding the engagement of and cooperation with civil society and key stakeholders.
linkhttp://hosted.verticalresponse.com/413987/2140443b32/1626003033/3976945d7f/
◊ Personally I don't want to be represented by this NGO. If you are a council, committee or planning board member within an ICLEI member town, be aware you are infringing on the sovereignty and constitutionally protected rights of US citizens, by breaking Article 1 Section 10 of the US Constitution. If you have made an oath to uphold the constitution than you are also breaking your oath.
Reference link below to see Spokane, WA's ordinance and amendment they wrote to kick ICLEI out of their town-
http://www.freedomadvocates.org/articles/sustainable_development/kick_iclei_out%21_20100410407/
Resource Links  http://www.freedomadvocates.org, ICLEI Primer –
http://www.freedomadvocates.org/articles/illegitimate_government/iclei_p…
For a more in-depth analysis see "The Local Movement Compromised" – https://vermont4evolution.wordpress.com/human-rights/the-local-movement-compromised/